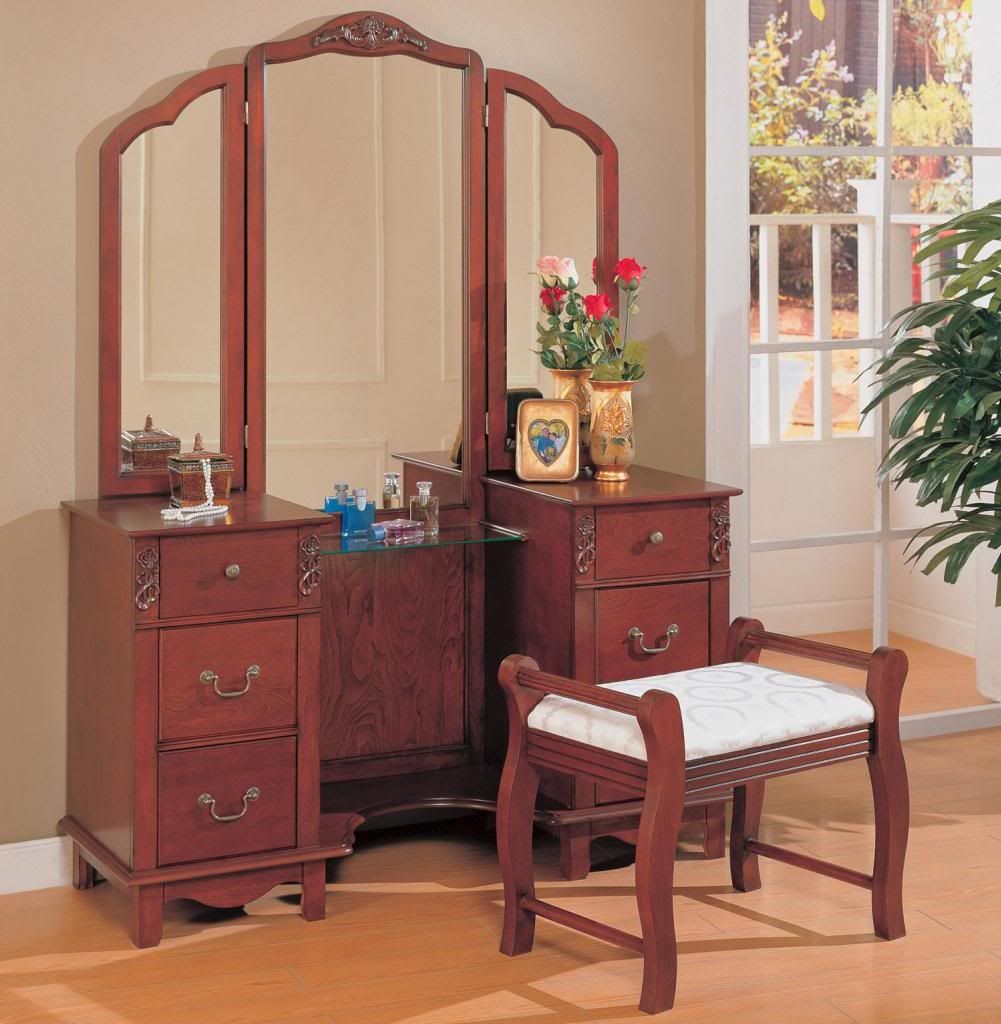 This large vanity table is more like a dressing table. Made by Coaster furnishings, it is a vanity table with a lot of great features. Main feature number one: size: The mirror on this vanity set is large enough to view your whole outfit, or just use it sitting down while applying your makeup. It's that large. It's also a tri-fold mirror, so you can turn the additional mirrors at the side, just so, that you may view your profile and see that your makeup is going on evenly in all parts of your face.
In the center there is a glass shelf that works to hold the makeup your are presently using. You can also use the sides of the vanity table for additional space to put materials on. Next is where this vanity table is different than many others. It has three storage drawers on each side, plenty big to store all your makeup or accessories. These drawers are all made of made of the same wood that makes up the whole vanity, cherry finish over birch veneers. It's a warm color that blends in well with other colors. The whole vanity set has a faux antique look to it. This is accented by the use of carvings and at different parts of the unit. There is a carving at the top of the mirror and then alongside the two top drawers.
The bottom of the unit has a curved cut-out so that you may fit your feet in when using the vanity table. It's high enough to allow you to put your feet on top if you so choose. Also, let's not forget to mention the bench that comes with the vanity table. The wood finish on the bench is similar to the table, and the seat has a neutral color to complement the color scheme of the bench. The dimensions of the vanity table are as follows: the table is 4 ½ feet wide, 1 ½ foot deep and almost 6 feet high. That mirror is high enough for most everyone. The vanity stool is 21 inches high, over 2 feet wide and 1 ½ in depth. Unlike other vanity sets, the mirror is low enough on the vanity set that you can see yourself fine wherever you sit. At this price point, you're not going to find a vanity set with this much storage and this much height. It is truly a unique vanity, lots of storage with an antique touch. Available at Amazon today.